Beechdale Garden Centre, Wexford. Quality Plants, Hedging, Garden Furniture, Tools and Garden Design Services Clonroche Co Wexford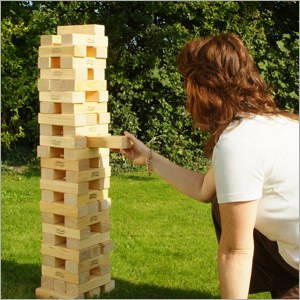 Traditional Garden Games Garden Tumble Tower
€89.99
Build the tower then take turns to remove a brick at a time without making the whole tower tumble. Made from best cuts of premium wood this is the highest quality set you will find, each brick is varnished and stamped with the Traditional logo of approval. Contains 56 bricks (18cm x 4cm x 6cm). Builds from approx 75cm (2'6") to as high as you dare!

Contents

56 High quality wooden bricks (18cm x 4cm x 6cm), Colour box.

Click on Downloadable Information below for Rules Sheet.