Beechdale Garden Centre, Wexford. Quality Plants, Hedging, Garden Furniture, Tools and Garden Design Services Clonroche Co Wexford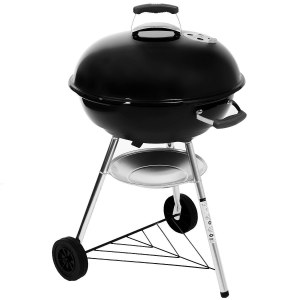 Weber Compact 57cm Kettle
€169.99
Weber Compact 57cm Kettle

Key Features:
- 10 year limited warranty.
- Weather-proof handle with a protective heat shield.
- Fire and rust-resistant lid and bowl are made from steel and porcelain-enamel coated inside and out. This makes them weather-proof and extremely durable.
- Rust-proof aluminium vents provide the proper airflow for perfect barbecuing.
- The rust resistant cooking grate is triple-plated making it extremely durable.
- Rust-proof removable ash catcher.
- Glass-reinforced nylon handles.
- Crack proof all weather wheels.
- Comes with charcoal measuring cup.

Dimensions:
- Total Height: 88cm
- Total Width: 54cm
- Cooking Grate: 47cm round
- Cooking Area: 1735cm²/269inch²

Warranty:
- Bowl and lid: 10 years.
- Handle: 10 years.
- Charcoal grate and cooking grate: 2 years.
- All other parts (legs, base, triangle, ash catcher, wheels and vents): 2 years.