Beechdale Garden Centre, Wexford. Quality Plants, Hedging, Garden Furniture, Tools and Garden Design Services Clonroche Co Wexford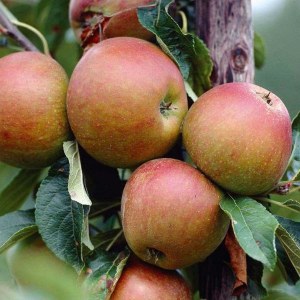 Apple 'Cox's Orange Pippin' Bare-rooted
€14.99
2 for €25 Apples: mix and match:
2
€12.50
This product is available for Click and Collect Only. We want to ensure that you get your product in tip top condition, thus we do not deliver this product. Instead you can collect it instore here at Beechdale Garden Centre. We are open 7 days a week - Please visit our Contact Page for opening hours.
Dessert. Harvest November-January. Popular eating apple with tender yellow juicy and aromatic flesh. Fruits medium round and conical. Skin golden-yellow with brown-red flush. Needs a sunny free drained position. Rootstock MM106
This Item is Bare Rooted so must be planted immediately. Bare rooted means there is no soil around the roots..